St John the Evangelist Mickleover
St. John's Hall and Link Bookings
Our Church Hall and Community Link are available for private hire when not in use by regular activities. For enquires about cost and availability, please contact our Bookings Administrator on (Derby) 515293 or send an email.
For large events, both the Church Hall and Community Link can be booked together. Internal access between these facilities includes a small flight of stairs. External ramps are available for users with limited mobility.
Please note: The facilities are not available for hire on Sundays.
Church Hall
Our large hall is ideal for parties and fundraising events, with a capacity of 80 for dancing or 100 (loose) – 200* (linked) seated. All bookings include use of a fully equipped kitchen (with catering sized oven), simple stage and side room. In addition, there are 3 toilets (including one easy-access with baby changing facilities), tables, chairs, crockery, glasses and cutlery.
*Note: The hall is equipped with approx 120 chairs. To reach the maximum capacity, additional seats will be required.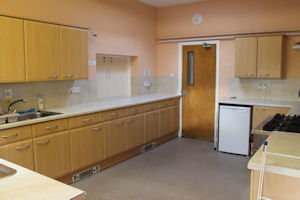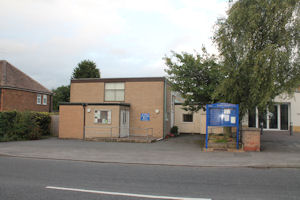 Community Link
The Community Link is available for one-off hire and is ideal for small groups and meetings. Seating and tables are provided for approx 20 people. The room is adjoined by 3 toilets (including one easy-access with baby changing facilities) and a kitchenette* with a hatch.
*Note: The kitchenette is equipped with facilities to make hot drinks, but cannot be used for food preparation.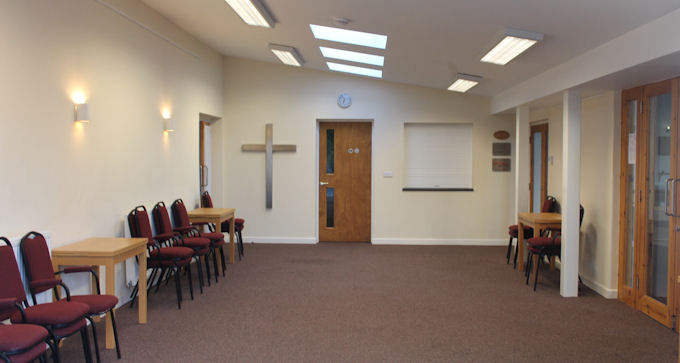 Guidelines
Please review the general guidelines for further information, including hours, payments and licensing.